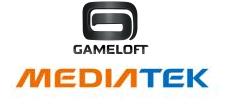 MediaTek Inc., a leading fabless semiconductor company for wireless communications and digital multimedia solutions, and mobile gaming giant Gameloft, today jointly announced a global strategic partnership. Through this global partnership, Gameloft is committed to fully support a wide range of gaming applications available on MediaTek's feature and smartphone platform solutions. Gameloft has also begun to allocate dedicated R&D team and resource for the development of games that will run on MediaTek's mobile phone platforms.
To meet the rapid growth of the mobile gaming market, MediaTek and Gameloft have come together to offer high quality games supported by MediaTek's high performance mobile platforms that can meet the increasing demands of gamers regarding speed and multimedia features. MediaTek announced that its newest single chip solution, the MT6255, which will come pre-loaded with Asphalt 6: Adrenaline™, Gameloft's most popular racing game to date, as well as trial versions of three other best selling games, Block Breaker 3™, Assassin's Creed Revelations™, andBrain Challenge 3 : Think Again!™—all at no extra cost to manufacturers. Besides, Gameloft has already begun to funnel resources and game development teams in France, Vietnam, and China to create games that will run on MediaTek powered mobile platforms.
According to a recently released market survey carried out by IT research firm SuperData, mobile gaming will be a $7.5 billion market by 2015E, more than triple the $2.7 billion that it is today. The survey also showed that Asia is currently the largest market for mobile gaming, with revenues forecasted to total $3.2 billion by 2015E, accounting for 40% of the total market. Since anywhere between 3.5% and 10% of mobile free-to-play game audiences will convert to paying users, this market segment offers a large potential for growth.
Regarding the new partnership, Ching-Jiang Hsieh, President of MediaTek said, "With the rapid development of mobile Internet applications and services, mobile gaming has become one of the leading value-added service and application in the mobile Internet industry today. I see our new partnership with Gameloft as a major breakthrough for the industry: With MediaTek's strong platform customization and Gameloft's cutting-edge game development capabilities, together we will be able to bring even more value to mobile phones, thereby increasing the competitive edge of our customers among mobile phone industry."
"We look forward to leveraging MediaTek's high performance mobile platforms to deliver our exciting selection of games to even more users worldwide. Gameloft has been present on the Chinese market for over 10 years with strong business and creation teams and we are thrilled to increase our presence to propose our games to the billion phone users in China. In sync with Mediatek's philosophy, Gameloft's mission is to provide a good experience to the mass market at a very reasonable price. Together we share the vision of leveraging our mutual technology and experience to serve the needs of the public in the broadest way possible," said Gonzague de Vallois, senior vice president of Gameloft.
George Zhu, CEO of TECNO, leading handset brand in Africa also noted, "As one of MediaTek's strategic partners, the concept of "entertainment" has always been one of the mainstays of the TECNO brand name. We are very excited about the benefits that this strategic partnership will bring to our users. As these two giants combine their strengths, it will allow us to develop even more competitive products which will bring our customers an even better gaming experience."