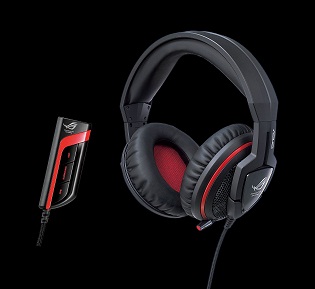 ASUS ROG Orion PRO and Orion full-size gaming headsets are designed to provide gaming enthusiasts with the finest audio immersion and positioning needed in any game and at any location. After extensive research and development and taking customer feedback into account, the ROG team concluded that user comfort is the key when it comes to gaming headsets. As such, ROG Orion PRO and Orion possess 100mm over-ear cushions for greater comfort, and bring immersive audio with large 50mm neodymium drivers.
Gaming comfort with superb audio performance
Following a prolonged trial period aimed at finding the perfect fit, ROG designers chose large 100mm over-ear cushions covered in highly-breathable quality leather treatment. They fit snugly on heads to generate greater user comfort over extended gaming sessions while eliminating ear fatigue. Large 50mm neodymium drivers on both Orion PRO and Orion have been meticulously fine-tuned to provide dynamic audio positioning, while the larger ear cups afford passive noise cancellation that isolates up to 30dB of high frequency ambient sounds such as environmental noise and human voice. This high degree of noise elimination makes busy LAN parties virtually library-quiet, allowing gamers to focus better.
Retractable microphone and cable organizer
Taking community feedback into account, ROG Orion PRO and Orion use a retractable microphone boom for easier angle adjustment and neat storage when not in use. New microphone noise filtering technology boasts more sensitive voice capture capabilities for clearer in-game communications, and Orion PRO further includes an easy to use cable organizer for convenient wire management and unsightly entanglement prevention.
Quality audio enhancement with ROG Spitfire*
Gamers who choose ROG Orion PRO experience additional audio enhancement technologies via the exclusive driver-free ROG Spitfire USB audio processor. ROG Spitfire comes with three in-game audio modes: FPS EQ for better audio positioning in first person shooters, 7.1 virtual surround, and headphone amplifier. Each has a dedicated one-click on/off button, with no need to enter a software interface. FPS EQ has been developed by analyzing the audio characteristics of several leading first person shooters, with advanced sound algorithms built into the hardware to improve equalization and bring out details with better clarity. Gamers can hear opponent movements, gunfire, call-outs, and other auditory cues with better directional precision, contributing to successful play. The 7.1 virtual surround mode presents lifelike and distortion-free in-game surround. Its design optimizes effects originally not programmed specifically for games, resulting in more natural and balanced enveloping in-game audio. ROG Spitfire's integrated headphone amplifier features ROG engineering that boosts in-game sound detail, and has been tailor-made to match the tonal performance of ROG gaming headsets, as opposed to off-the-shelf headphone amplifiers.
*Exclusively with Orion PRO
Some other details about the products:
Orion Pro – Rs. 5200/- (excluding taxes)
Orion – Rs. 4250/- (excluding taxes)
Contact (Company Name): ASUS Technology Pvt. Ltd.
Phone: (91) 22 – 67668800 / 18002090365
E-mail: [email protected]
Website: www.asus.in
Warranty period: 1 year
Specifications
Feature
Description
Driver dimensions
50mm diameter
Driver material
Neodymium magnet
Impedance
32ohm
Sensitivity
100dB/mW (@1KHz, 179mV)
Maximum input
50mW
Frequency response
20Hz-20KHz
Microphone
Bi-directional
Microphone sensitivity
-30dB
PNC (noise-isolation) performance
Maximum 30dB
Weight
268g
Dimensions
8.1″ x 7.7″
Cable type/length
Braided/2.5M
ROG Spitfire audio processor (Orion PRO only)

FPS EQ
7.1 virtual surround
Headphone amplifier
Product specifications and features may change without prior notice. Check www.asus.com for further details.