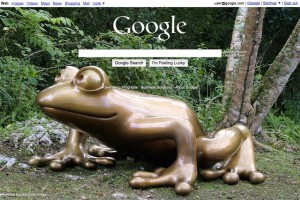 Google is taking search to next level of personalization. From launch of iGoogle in 2005 and later addition of stars to search results, to latest inclusion of 'App stores' in search result, Google is possibly refreshing its outlook of search every time. And today, Google announced that it would allow users to replace the white background of Google home page, with personalized images of their choosing.
Users can choose a photo from their computer or from Picasa album or from public gallery hosted by Picasa. According to official statement:-
Whether you choose a photo of a loved one, a picture of your favorite vacation destination or even a design you created yourself, Google.com is now yours to customize. For those of you who want to enjoy the clean, simple look of Google as well as your personalized view, we've made it easy to switch between your customized search page and classic Google.
Google has again rolled out its customized search to US only, which is likely to expand to other countries soon. You can also tweet picture of your home page on twitter with the hashtag #myGooglepage.
But will this personalization lead to slow page loading?  Not actually. According to InformationWeek report:-
"With or without a background image, the Google search elements show as quickly as before, allowing users to search just as quickly as without the new feature. We make this possible by post-loading the photo — we load the search elements first and then load the picture into your browser cache and show it as soon as it is available. Meanwhile you can already perform your search."