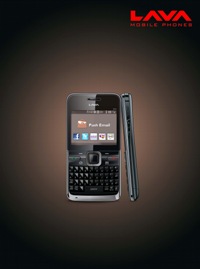 LAVA Mobiles, one of the fast growing brands in Indian mobile industry, has unveiled its all new QWERTY phone LAVA B8. Lava B8 promises to be a complete business phone as it has all features that a business phone should have –Push mail, Wi-Fi, Touch pad, long Battery. This device would help professionals and young entrepreneurs, who always want to access mails and remain connected, on the go.
Commenting on the launch of LAVA B8, Mr. Sunil Raina, Chief Marketing Officer, LAVA International Ltd. said, "The launch of Lava B8 fulfills the need of a large segment of businessmen and professionals to remain connected at all times through its unique combination of features like Push mail, Wi-Fi & Track Pad. Through our customer insight driven innovations we constantly attempt to bridge the customer need gap in keeping with our core value of empowering people.
"Lava B8 combines Stylish design with unbeatable performance and enhanced specifications that will appeal to the business users and gadget-lovers who require the best & rarest combination of innovation, design and technology in one compact package – in the form factor of their choice." he added.
The push mail and Wi-Fi ensure connectivity and smarter management of professional & personal tasks; up to 10 Email accounts can be added in one phone. Lava B8 supports most of the Email accounts available today including office & personal Email accounts. Wi-Fi enables to access Internet at high speed and with growing trend of Wi-Fi hot spots this phone provides high speed internet outside home and office. High Power Battery ensures long power backup so that users remain connected seamlessly. Track pad provides the ultimate ease of use and quick navigation through phone menu. All these attractive features come in an elegant and metallic design.
Lava B8 has a 2.3 inch High resolution screen and full QWERTY keypad with impressive 3.2MP digital camera with LED flash, MP3/MP4 Compatibility, and A2DP Bluetooth. User-friendly Interface which aims at providing amazing experience with Track Pad, Dual SIM, and Auto Call recorder; are some of the integrated facets of this handset. It also comes along with expandable memory support of Up to 16 GB, which ensures enough space for multimedia files.
Lava B8 also features numerous entertainment options including Java embedded games with inbuilt G –Sensor which allows users to switch between songs & wallpapers by shaking the phone, and advanced connectivity options with utility applications like nimbuzz, Snap tu, and opera mini are the standard features of handset. Experience this phone will also let the techno geeks use the common networking sites like facebook, twitter & special chat applications to remain connected with GTalk & Yahoo messenger.
Price: Rs. 5299/-
Availability: Available at all leading stores.
TECHNICAL SPECS OF
LAVA B8
Push Mail
Wi-Fi
3.2 MP Camera with Flash
Metallic Body
Track Pad

1400mAh powerful battery
Dual SIM
G-Sensor

Auto call recording
10.  Edge support
11.  Java Enabled
12.  Social networking through Facebook, Twitter etc
13.  Micro SD Card support up to 16 GB
14.  Privacy lock
15.  3.5mm Audio Jack
16. Price: Rs. 5299/-