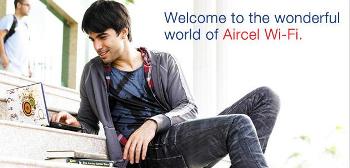 This is bit surprising to me. Aircel, the sixth largest telecom operator company by subscriber count, who aggressively bid for latest 3G & BWA spectrum, has launched 50,000 Wi-Fi zones across, India.
Currently, Aircel users in five metros, namely Bangalore, Chennai, Hyderabad, Delhi & Mumbai can locate nearest Wi-Fi zones. Also, Aircel users can also avail free trial pack to surf across, till 20th Feb.
This offer looks quite interesting. In Delhi, there are more than 100 Wi-Fi zones available, which also include Gurgaon, Faridabad & Noida regions. Only concern was Noida, where most of the Wi-Fi zones are concentrated in Sec-62 area.
I wish this offer could be available in Pune as well, where Telecomblogs resides these days. Are you listening Aircel?