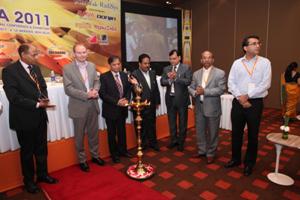 The first Internet access for the bulk of the billion and odd Indians would be the 3G phone.  From connecting the people from remotest parts to government authorities to assisting in shopping or monitoring healthcare to education on the go, the 3G, 4G enabled mobile would be changing life style of the people.
Presenting this emerging future scenario, telecom experts here said at VAS Asia 2011 – Asia's largest convention on MVAS, that mobile smart phone would also become a platform for providing a level playing field for people from different socio-economic communities.  BSNL chairman and managing director Rakesh K Upadhyay inaugurated the conference organized by Bharat Exhibitions.
"It is a huge opportunity as the market for value added services is set to expand beyond voice and phone, from entertainment to utilities and services" explained Jason Stirling, senior vice-president, Asia Pacific, Nuance Communications giving the key note address.  This would bring "scalaeable, cost effective secure" ways to deploy VAS to masses especially in rural areas to change their lives.
Voice biometrics on mobile for instance would enhance efficiency, security and customer experience. The voice biometrics his company offers was most advanced yet simple, instantaneous and non-intrusive as well as cost-effective.  With voice biometrics phone banking authentication, real time fraudsters detection and private banking security among other benefits accrue. It could also help in government and homeland security, and other secure access to many services.
Application developers need to work across all sections of people's lives bringing them entertainment, education, healthcare, financial services among others, Mr. Stirling said.  VAS market in India was all set to change radically as the reach of the mobile gets to people never exposed to such technological yet simple access devices that cross all sorts of traditional barriers, thereby improving access to information that gets more sophisticated by the day, the Nuance official said.  "We must think about where we offer value in this opening", Mr. Stirling cautioned vendors.
"It is an exciting world of applications" said Rahul Saighal, chief marketing officer, Aircel, describing the 3G mobile phone as ushering in the "Pocket Internet" to push a "Data Revolution" in India.
Predicting smart phone penetration to rise from 5.2 per cent of the mobile subscription base to 14 per cent by 2014, Sandip Biswas, director of Deloitte Touche Tohmatsu India Pvt. Ltd said, growth, listed M-Commerce, M-Law, M-Governance, M-agriculture and M-education as the areas to develop in value added services on the mobile phone.  He cautioned about the "huge gap of understanding" between telecom service providers and VAS providers that could affect growth.  For the full benefits of this transformation to be realized he wanted policy framework that now was thin, initiative of much greater depth from the private sector, among other requirements.
How value added services on the mobile phone would help push inclusion in the government services reach was evident in the proposed cash subsidy disbursal to the target population using the mobile phone.  This was possible because of the wide reach of the mobile, pointed out MTNL executive director A. K. Bhargava. The VAS innovators should think beyond formulae as was being attempted by the Bollywood producers now to come up with content that appealed to the youth, Mr. Bhargava advised.
How Nepal was planning the spread of different value added services on its widening mobile subscriber base, was the theme that Vishwa Nath Goel, Managing Director, Nepal Telecom presented at the conference.  According to Mr. Goel, Nepal was rapidly moving to match global level of services on the mobile phone to the people.
The service provider and public interest in value added services on the mobile was so widespread that several new and existing players are getting involved in differentiating their services to gain market penetration. New entrants into the Indian market like global player Nuance Communications have brought in a whole range of offerings, the event organized by Bharat Exhibitions, revealed.
Other lead players include Dialogic, OnMobile, RadiSys, Motricity, Netxcell, Avaya, Donjin, MapmyIndia, Spice, Tieto India, Wipro, One97 Communications, Buongiorno etc. are ensuring that the Indian consumer of mobile telecom services would not be missing what the global mobile users now enjoy. For many millions in the country dead time hangs heavily as they ride trains and buses. Mobile services on the phone could help exploit these hours for education, health check, reaching out to public offices, apart from entertainment.  In fact the android equipped mobile handsets whose costs are continually falling making them affordable to a whole range of people, were already awakening the mobile user to the huge opportunity that is emerging, telecom experts explained at the conference.