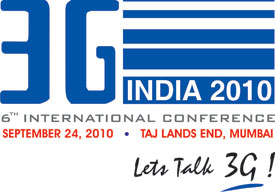 With a Strong Government Support & Clean and Litigation Free 3G Auction – 3G in India has ARRIVED & is a REALITY – With the 3G Auctions complete and licenses granted – Over 650 million strong mobile connected population is waiting for the widespread commercial launch of 3G services which currently is being provided in a limited way by only Public Operators. India has reached a stage wherein voice is increasingly becoming a commodity coupled with the fact that 3G is proving to be synonymous with value added applications.
All the leading Private Operators in India are expected to launch 3G Services by December 2010 . Huge investments are being planned by Network Operators for the launch of 3G services in India & significant opportunities exist for Operators, Network Infrastructure Providers, Handset Manufacturers, technological solution providers and multimedia & mobile value added services providers on a 3G platform – As third generation mobile subscriber base in India is expected to reach 90 million by 2013.
Organized by Bharat Exhibitions & supported by DOT – Department of Telecom & DIT – Department of Information Technology, 3G INDIA 2010 scheduled to be held on September 24, 2010 at Taj Lands End – Bandra West, Mumbai will focus on laying India's roadmap on 3G & it will showcase the bright future of third generation technologies and services in India 6th 3G INDIA 2010 will offer the best business platform in the country for Telecom Industry to conduct business & introduce popular 3G service offerings
Mr. Shashi Dharan- Managing Director, Bharat Exhibitions the organizer of 3G INDIA 2010, says, "This conference will offer a best platform for the Indian Telecom Industry to evaluate  current 3G launch proposition & achieve optimum future revenue with winning service, content, technology & marketing strategies .
The 6th edition of the event will attract business delegates from Wireless and Fixed Carriers, GSM Operators and Service Providers, CDMA Operators and Service Providers, Handset Manufacturers, Network Device Manufacturers, Virtual Mobile Network Operators (VMNOs), Wireless Deployment Companies (Hot-Spots, Rural, Aggregators etc.),Chip Manufacturers, System Integrators, Internet Service Providers (ISPs) ,Application Service Providers (ASPs),Application Developers ,Content Providers & Value Added Services Providers, Multimedia Services Providers, Content Owners & Aggregators,(OEMs) 3G Terminal and Network Infrastructure Providers ,Payment and Security System Providers ,Other Fixed And Mobile Professionals, DOT, DIT, Ministries & Regulatory; Service Organizations.
Global majors scheduled to be engaged in 3G service offerings are part of the event (Nokia Siemens Networks, GTL, BSNL,Huawei,Amdocs,Bridgewater Systems,DragonWave,F-Secure,IMI Mobile,ByteMobile,Deltenna,Shaildhar Telecom Services,Alcatel Lucent,Juniper Networks & Tejas Networks). COAI – Cellular Operators Association of India is supporting this 3G event initiative now into successful 6th year.
Among the Telecom Operators & Service Providers – Airtel, Vodafone, Idea, Aircel, BSNL, MTNL, Reliance Communications, TATA Teleservices, Sistema Shyam, Virgin Mobile, Etisalat, Uninor, TATA DoCoMo,Videocon and Stel are the key participants.