Although Android is an operating system more popularly associated to Smartphones, it still offers some exciting tablets. The Android tablets presented at the 2013 International Consumer Electronics Association (CES) conference look to be the most likely rival to take on Apple's ever-popular iPad. With better specifications and more appealing lower prices, Android tablets are the must-have gadget in 2013.
If you are thinking of purchasing one, you might want to consider the top five best Android tablets today. In this article, you will be presented with the best Android tablets to purchase this year and how each one stand out from the rest.
Google Nexus 7  by Asus: $249.99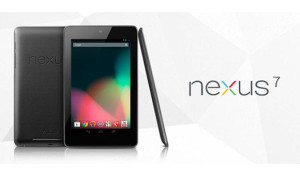 Image source:  techradar.futurecdn.net
Looking for an affordable yet high-quality Android tablet? Presenting the top model on the market today – the Google Nexus 7. We feature this remarkable device as the best available tablet because more famous tech websites have reviewed and considered it as "still the best budget Android tablet to buy" than any other based on the article entitled Best Android tablets to buy in 2013 published by ExpertReviews.co.uk.
Carrying a Tegra 3 quad-core processor, Google's first own-brand tablet is provides users with a high-definition display from its 1280×800 LCD screen, longer battery life, and an upgraded the OS with a raft of features all at a price that doesn't hurt the pocket. Its other great specs include 1GB RAM, 16GB internal storage, and Android 4.1 OS.
Google Nexus 10: $399 for 16GB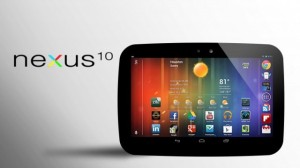 Image source:  techywhack.com
In the battle of the tablets, one of the features that makes a device stand out is its screen display. Today, Google Nexus 10 has the best display among the Android tablets in the market. Compared to Apple's retina displays, this device's 10.1 screen provides you with 300 pixels per inch (2560×16000 Super PLS) display which is currently the highest resolution tablet on the planet. Although this tablet lacks expandable memory, it offers you a large, high-quality screen, powerful processor and the updated Android 4.2.1 OS.
In an article published at TechRadar.com entitled '15 best Android tablets in the world,'their quick verdict writes "the Google Nexus 10 is easily one of the best Android tablets on the market and while it's not quite as fantastic value for money as the Nexus 7, it certainly gives Apple's high-priced iPad 4 a run for its money. For the price you're paying, you won't be disappointed."
Samsung Galaxy Tab 10.1: $499.99 for 32GB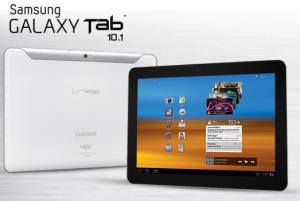 Image source: limitlessdroid.com
Another tablet with a big screen is the Samsung Galaxy Tab 10.1. Its bright, wide screen comes with a powerful quad-core chip, 2GB of RAM, Android 3.1 Honeycomb OS,  and is thin and light-weight and has the mighty S Pen (stylus).
With its heavy-duty features, Samsung Galaxy Tab 10.1 is "the closest Android tablet yet to give the venerable iPad a true run for its money," according to TopTenReviews.com in their Samsung Galaxy Tab 10.1 Review. What really sets it apart from other rival tablet devices it its brilliant display screen and quad-core chip. Whether you're using the internet, watching videos or using processor-hungry applications, you'll never experience lag or a frozen screen with this tablet.
Another great feature of this Android tablet is its stylus hidden in the bottom. This allows you to enjoy Samsung software designed specifically to work with the pen. So if you want to do some doodling or to hand-write all your notes, you can now do it with the S Pen. Overall, Samsung Galaxy Tab 10.1 is highly recommended by various tech blogs as a fast and strong performing tablet that doesn't sweat much on the price.
Asus Transformer Pad Infinity 700: $448.88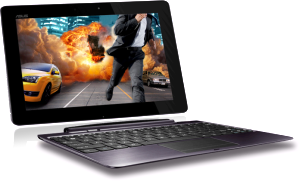 Image source: asus.com
As well high screen display resolution, quad-core chips have become the trend in tablets. Asus now joins the market with its Asus Transformer Pad Infinity 700 that features a great full-HD screen (1200×800 pixel resolution display), a powerful Nvidia Tegra 3 quad-core chip (1.6GHz), Google's Ice Cream Sandwich OS and a handy keyboard dock slot so you can turn it into a laptop.
This 10-inch tablet is roughly the same size as most average netbooks out there. Although it has heavy-duty features, the Transformer Infinity is lightweight (around 8mm thick and slimmer than the iPad) and easy to slide and carry into a tiny bag. The keyboard dock carries a separate battery pack which can last around 14 hours of normal usage.
If you enjoy touchscreens,  but need a keyboard to let you get on with some real work, the Asus Transformer Pad Infinity 700 should suit you down to the ground.
Amazon Kindle Fire HD: $199 for 16GB
Image source: arstechnica.net
Amazon finally made their step to join the tablet market with their Kindle Fire HD. This 7-inch device is one of the budget Android tablets, but don't underestimate this tablet for its price and size. Kindle Fire HD comes with a 1.2 GHz CPU, 16GB or 32GB  internal storage, 1GB RAM, Android 4.0 OS and 7-inch full HD display (1280×800 IPS).
This device features a dedicated space to access various apps, movies, games and music. Recent updates on the Kindle Fire HD have added a camera application for the front camera and Skype support. Amazon's Kindle Fire HD is best for those who want to purchase a tablet that is user-friendly, easy-to-carry and has great features for an affordable price.
2013 promises to be a good year for tablet producers as more consumers are buying touchscreen and handy devices. If the cost of an iPad is just too expensive, why not check out the Android tablets presented above. You might find the perfect tablet that fits your budget and needs. Once you've purchased the right tablet, it's best to secure your new property by reading on some news about Android devices to learn about the must-have applications for your handy new companion.
About the Author
Reese Jones is sometimes found writing about online, twitter, latest phones and online communities. Her other passions include playing drums  and she also maintains a passion for horror films