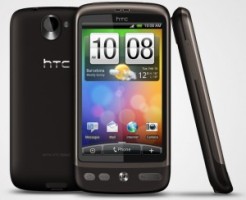 In keeping their promise to DO the New, TATA DOCOMO have announced a partnership with HTC to launch the 'HTC Desire' in India. The HTC Desire is the latest Android Smartphone that offers the enhanced HTC Sense experience to users.
HTC Desire delivers intense brilliance, sharp contrast and true colors on the expansive 3.7-inch 480 X 800 WVGA display. The 1-GHz Qualcomm Snapdragon processor makes the phone incredibly responsive while the instinctive HTC Sense experience lets the user experience the HTC Desire with the greatest of ease. With one of the most advanced displays available on a phone today, HTC Desire is designed to enhance and maximise content, whether it is pictures and videos, browsing the Web or checking on friends' status updates. Thanks to the latest Android 2.1, as well as the ultrafast processor, HTC Desire offers a wide range of live wallpapers for user choices.
The HTC Desire comes with an exclusive offer for TATA DOCOMO users in India, wherein TATA DOCOMO Postpay subscribers will get free data download of 500 MB per month for 06 months. To avail this offer Tata DOCOMO customers will have to SMS 'Android' to 54321 from their HTC Desire handset.
"When we launched our services, we had promised our subscribers that we would bring to them the best products and services—products that will stand for innovation and a pioneering spirit, and which would offer them convenience and simplicity". Mr. GurinderSingh Sandhu, Head Marketing, Tata DOCOMO said. "Living up to that promise, we are launching the HTC Desire. This launch marks the strong relationship TATA DOCOMO enjoys with HTC and, going forward, we will continue to work together to launch more innovative mobile offerings for Indian consumers on the Tata DOCOMO platform," he added.
HTC Desire also comes packed with the HTC Sense which is a user experience focused on putting people at the centre by making phones work in a more simple and natural way. The new HTC Sense experience continues to focus on improving your interactions with your most important people.  This begins with a new HTC application and widget called Friend Stream that seamlessly aggregates all of your social communication including Facebook, Twitter, and Flickr into one organised flow of updates.
To know more about this cool handset visit http://tatadocomo.com/htc-desire.aspx
You can get your hands on this uber cool handset at a Market Operating Price of Rs. 28,900* at all authorized HTC resellers across the country. So what're you waiting for, go get what your heart desires, dive-into the world of HTC Desire!
* Prices may vary according to the local applicable taxes