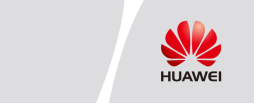 Huawei, a leading global information and communications technology (ICT) solutions provider, will be showcasing its mobile broadband communications solution portfolio at the Professional LTE Conference in Barcelona, Spain from September 17-19, 2012. The showcase includes industry-specific solutions for customers across government, transportation, energy and power industries to support and enhance business operations, as well as speed up enterprise informatization.
At the event, Huawei will demonstrate how its portfolio of high-performance LTE mobile broadband communications products and solutions can be adapted to the needs and requirements of different business and operational scenarios. Providing ultra long-distant and high-speed coverage, as well as multimedia trunking, the solutions are highly secure, highly reliable and can adapt to harsh environments. As a result, customers benefit from customized and flexible deployment, ease of operation and maintenance, and savings in investment.
At the event, Mr. Shen Minjun, a technical expert at Huawei, will be speaking on "Paving the way to professional LTE". He will provide an overview of Huawei's plans and strategies for LTE-based professional communication, as well as industry standards and cooperation.
Huawei's leading LTE mobile broadband communications solutions have been widely adopted by enterprises in Europe and China, as well as across different industry sectors including government, transportation, energy and power, to safeguard communications in business operations, as well as enhance efficiency.  In the future, Huawei will continue to cooperate with strong partners to develop more innovative customer-centric communications solutions that cater to the requirements of different industries.
For further information on Huawei's portfolio of wireless communication solutions, please visit Stand B6 at the Hotel Rey Juan Carlos & Congress Centre, Barcelona, Spain or visit http://enterprise.huawei.com/en/products/network/wireless/index.htm