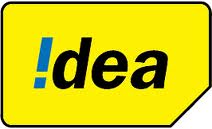 Idea Cellular, India's 3rd largest mobile operator has launched its latest super-fast 3G dongle with cloud based services, today. This revolutionary product in its category offers three key features including internet access; storage capacity of 2GB on the cloud, making it convenient for users to access their data anytime and anywhere; and Cloud Messenger+ a cloud based messenger service allowing free and unlimited communication between cloud users.
The new cloud dongle from Idea also allows users to share pictures, music, videos and documents through the 'Cloud Share' option, syncing all the attached devices. Users of Idea dongle can also avail other cloud features such as data backup and easy recovery, thus making it the safest and most secure device for internet access and data storage.
Idea has become the only operator to launch this innovative product which offers fast, safe and affordable data connectivity, and connects easily and quickly to any PC, netbook or laptop.
Announcing the launch Mr. Sashi Shankar, Chief Marketing Officer, Idea Cellular said, "Cloud is the new technology, and we are the first mobile operator to introduce this into the Indian market. Idea is committed to delivering innovative and easy-to-use data products and services across all categories – smartphones, mobile broadband and home devices. The new 3G dongle will enable consumers to take even greater advantage of its fast data connectivity at home, office and on-the-go, and additional option to store and share files over cloud."
The device is capable of download speeds of up to 7.2 Mbps and upload speeds of up to 5.76 Mbps. It means users do not require a fixed-line internet connection at home, and do not require public WiFi hotspots to get online when they are away from home or the office. Idea will offer free storage of upto 2GB for a period of one year.
The new dongle is priced at Rs. 1,799. Users can connect to the dongle by simply plugging the dongle in PC or Laptop and it will auto install Idea software with cloud plug-in.
The new cloud dongle will be available through all Idea outlets, across 22 circles.