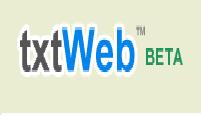 Folks! Now you can access Internet from your mobile phone, without even having an Internet connection to your phone. Now forget the hassles of WAP/GPRS/EDGA or even 3G configurations on your phone.
txtWeb, the company, which pioneered the idea of accessing the Internet via SMS, has made available an interesting video, on how users having any mobile phone (Yes, I mean it buddy!) can access Internet by using SMS.
And yes, this costs just nothing, but regular SMS charges.
Just go through this interesting video & do share it with other too!