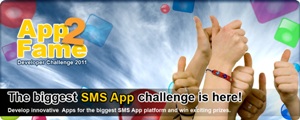 txtWeb, the revolutionary global platform which helps anyone with mobile phone to discover & consume Internet, presents App2Fame, an online contest for developers who want to create an impact with their work. Now you have a chance to reach 700 million mobile phone users across India who can use txtWeb for FREE.
Test your innovative skills and creativity by developing ultimate cool SMS based mobile apps. Your participation will give your Apps one of the biggest platforms and a chance to win exciting prizes based on various categories.
You will soon be a part of one of India's biggest SMS based platforms which will give you massive reach and a chance to become famous instantly!
Contest Eligibility
This is an all India contest – start-ups, businesses, students, professionals – all can participate.
All entries must be submitted on txtWeb.com by midnight June 30, 2011 India Standard time to be eligible for the Contest.
Participants may form a team of up to 2 individuals.
For more details about contest, please follow the link