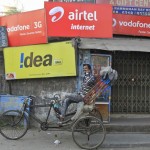 The much awaited telecom spectrum auction is over last month. As expected, the top three telecom operators, namely Bharti, Vodafone and Idea Cellular have bid aggressively to retain and win back their respective spectrum allocations. Others, including newcomer Jio, Aircel and Tata Tele have tried to capitalize the most of available options.
Now as telecos lined to pay first instalment of payment of bid, they must be evaluating various options to spruce up their offerings and consolidate their position in already fragmented bands allocations. Here is brief outlook of the industry, where we think, auction might leads to any or all of the events in near future.
Reliance Jio, the newcomer pan India 4G spectrum holder, who surprisingly bid for 800 (CDMA) band during this auction, might delay the launch further. This was the third of spectrum auctions Jio has participated since entering into telecom industry, and we do see strategically it has always shied away from bidding most coveted spectrum band (900 MHz). Jio now holds spectrum in 800, 1800 and 2300 MHz bands and we are looking further to see, how Jio aligns the launch combining all these bands.
Idea Cellular, who had the most at stake this time, had placed the highest bid value among all the bidders and has retained spectrum in 900 MHz band in nine telecom circles. Interestingly, Idea had launched 3G in Delhi circle on 900 MHz recently and also acquired 5 MHz of 900 band spectrum in Maharashtra, so it's very likely that Idea would expand its 3G services on additionally acquired spectrum. With acquisition of 1800 MHz spectrum in six telecom circles, taking total tally to ten circles (for 1800 MHz Band), Idea might also evaluate to launch 4G services in all these ten circles on 1800 band (LTE Band 3).
           For our surprise, Idea has gone to acquire additional spectrum of 5 MHz in Kolkata on 2100 band, which is the only circle they bid/won on the 2100 band (3G band). So it's quite likely that Idea would combine 900 (retained/newly acquired) and 2100 (existing) in existing circles for 3G expansion, but no additional carrier advantage is likely for its 3G subscribers (which is the case for both Bharti and Vodafone who acquired additional 5 MHz in 2100 band). We might see some impact on 3G speeds, but as 4G launch is on cards, the little lower impact of 3G speeds would be offset.
Bharti Airtel, the second highest bidder, had acquired lots of spectrum in 900, 1800 and 2100 band. Some of it is retained in 900 band, while acquiring new spectrum (900 band), along with addition of 5MHz in 3G spectrum in 2100 band in some additional telecom circles. So we are likely to see Bharti expanding 3G services (dual carrier 900 + 2100 band or even 3 carrier HSPA 900 + 2100 (2 bands of 10 MHz in total)). Regarding its 4G services, Bharti is likely to add acquired 1800 band with existing 2300 band to launch dual mode LTE. We are watching it out.
Vodafone India, who was also pushing to retain its leadership position in the market, has acquired and retained 900 band in eight strategic telecom circles, retaining 1800 band in three circles and acquiring new spectrum (5 MHz) in 2100 band for six telecom circles. So Vodafone is also likely to offer dual carrier 3G services (900 + 2100 band) or even going forward for tri-carrier HSPA network (900 + 2100 ( 2 carriers of 10 MHz in total). We are likely to see more details on its 1800 MHz band plans, but it could follow Bharti or Idea for 1800 MHz band utilization.
DoT has already mandated telcos to improve quality of its services, after winning spectrum, but still we feel it's quite early for telcos to settle on newly acquired spectrum or offering services expansion.
There's also some media report citing that auctions always lead to tariff hike, which seems more or less going to be the case this time also. We could see some upward tariff hike in next 3-6 months period, especially on data services by majority of telcos.
As 4G devices ecosystem in India is growing, we expect more 4G launches by leading telcos soon and expect initial tariffs on higher side. But at the same time, telcos have already invested in acquiring new spectrum in 900 & 2100 band (barring Idea, Jio and others for 2100 band), multi-carrier HSPA/HSPA+ is likely to be the thrust of data network in coming years, till 4G catches main stream attention.
We feel, the auctions have been quite fair, and telcos have wisely set their acquisitions of respective bands in strategic territories, for next two decades.
One last point always talked about is the possibility of M&A and Spectrum sharing among telcos. The spectrum sharing is likely to continue in existing form (till new guidelines are mandated) for 3G/HSPA services across PAN India. M&A is still a possibility, but we see, it would be on cards, but mayn't affect telecom market in radical way.