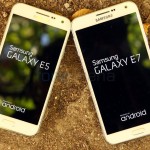 This year, Samsung won the heart of selfie lovers by introducing two selfie focused smartphones i.e. Samsung Galaxy E5 and Samsung Galaxy E7! Aiming to target the mid-segment of the market, they were priced at Rs.23,000 and Rs.19,300 respectively. However the prices have gone down with time and if price was a constraint for you, it's a great time to invest your savings in one of them. But the important question remains which one? Here is a comparison on both to help you better:
Design-Both E5 and E7 have a sleek design. E5 has a 5.00 inch 720×1280 display while E7 has a 5.50-inch 720×1280 display. If you prefer a phone that fits in one hand easily, go for E5 and if you are fond of large screen, E7 should be your choice. Both of them possess a decent sturdy body.
Camera-This is where both of the phones hold a great command over the other recently launched phones. Samsung Galaxy E5 has an 8 mega pixel rear camera and 5 mega pixel front camera. Samsung Galaxy E7 has a 13 mega pixel camera and 5 mega pixel front camera. Both of them are a treat for selfie lovers as they have innovative features to make taking selfies easy as breeze such as palm touch feature, selfie with voice command and wide angled selfie. You can click selfie covering an angle up to 120 degrees with the help of wide angled selfie. It is great, right? E7 may have more mega pixels but that doesn't necessarily confirm for better image quality. E5 on the other hand has more shooting modes.
Hardware-Both E5 and E7 are backed up by Qualcomm Snapdragon processor ARM Cortex-A53 and have a built in storage of 16 GB. It means sufficient space to store plethora of pictures, music and other files. However SamsungE7 is a better choice for multi-tasking as it has 2048 MB RAM as compared to E5 which has 1536 MB RAM. More RAM means smoother functioning of phone while running different apps.
Battery- Samsung Galaxy E5 has a 2400 mAh battery while E7 has a 2950 mAh battery, emerging as the clear winner here. Although even a 2400 mAh battery is quite decent for your everyday active life style needs. E5 delivers a talk time of up to 16 hours and video playback time of up to 12 hours. Both of them even have ultra-power saving mode to further save battery.
When it comes to choosing which one is better, both have their own fair share of pros and cons. But the shortcomings aren't that big to leave you worried. It's only in terms of price range that there is quite a difference. If you are on a budget, choose Samsung Galaxy E5. However if you can afford the price tag of Samsung Galaxy E7, you will get the added advantage of quicker multi-tasking as well as a longer battery life.
Author bio: 
Neha Choudhary is a content writer and content marketing specialist at Cashkaro. She is a writing fanatic and when she's not writing, she is technology, travelling and cooking. Being a book lover and a movie enthusiast, her mind is constantly revolving around new ideas. As a person, it's a treat being around her owing to her jolly nature.