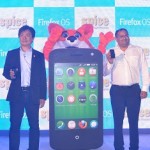 Spice Retail Limited today unveiled its first Firefox OS powered smartphone, the Spice Fire One Mi – FX 1. With a most aggressive price of Rs.2,229/-, Spice Fire One ispurely targeted to the nearly 85-90 percent of the feature phone users wanting to switch to smartphones. The device is aimed at the masses that are looking for a larger than life phone statement but are deterred due to price sensitivity.  Adding to the appeal and offering a wider choice, the Spice Fire One smartphone will be available in three colours – Orange, White and Black. The device supports Indian languages such as Hindi, Tamil & Bangla and comes along with a Free Silicon pouch.
Commenting on the launch, Mr. Prashant Bindal, Chief Executive Officer, Spice Mobility Ltd, said, "This is a step towards enabling the dreams of the small town masses of connecting with their aspirations through affordable smartphones. With the ultra-low cost Spice Fire One, we at Spice, aim to convert the feature phone users into smartphone users, thereby, aiding them with the power of interne t. Our intentions are clearly to synthesize technology and style in our products and make them available at affordable prices. This partnership with Mozilla showcases our commitment to providing the best technological innovations first hand to our customers. This joint undertaking with Mozilla is a breakthrough in product offering and a brand new concept for smartphones."
Dr. Li Gong, President of Mozilla, said, "Just one year after the first Firefox OS devices launched, they are available in 17 countries across Europe, Asia and Latin America. Our partnership with SPICE will bring an exciting launch to India, and we are confident that ultra-low-cost Firefox OS devices will realize a whole new category of smartphones to bring the power of Web to more people."
The Spice Fire One will be exclusively available on Snapdeal.com, India's largest online marketplace, for a limited period of time. Mr. Tony Navin, Senior Vice President – Electronics, Snapdeal.com said,"We are glad to launch the Firefox OS smartphone from Spice. We believe that such affordable phones will help accelerate the penetration of Smartphones in India".
Spreadtrum, a fabless semiconductor company headquartered in Shanghai, China which produces chipsets for mobile phones is our technology partner and Spice will be using their platform for making Firefox OS powered smartphones.
"We are pleased to collaborate with Spice to bring compelling affordable Firefox smartphones to market," said Dr. Leo Li, Chairman and CEO of Spreadtrum Communications.  "These devices will help expand the smartphone market and put the power of smartphone features and applications in the hands of more consumers."
This Firefox OS smartphone is powered completely by Web technologies and offers all that the users need – calls, messaging, email, camera and more. The 2G Dual sim enabled Spice Fire One targeted towards the masses is well equipped with a 1 GHz processor, 2.5 G connectivity, 8.89 cm HVGA capacitive touch screen and 1.3MP primary camera + 0.3 MP front camera. It packs a strong 1400 mAh battery that lasts more than 6 hours. On the storage front, it has a memory slot that can be expanded upto 4 GB.
Spice Fire One has a very intuitive and beautiful interface especially for the first time smart phone user.
Based on the open web, the phone has unique features like Adaptive App Search or the Single Window Search, as we have termed it, allows users to find all relevant information and apps available on the web together at a single click. The Marketplace on this phone helps you find an app for almost anything you can think of on Firefox marketplace. This device also supports several Indian languages like Hindi, Tamil and Bangla.
This device also comes preloaded with great social networking and instant messaging apps just to connect with your friends and family like Facebook, Twitter and Connect A2.
Spice's partnership with Aircel has resulted in more benefits to the users in the form of 1GB Free Data per month for a period of 3 months.
Anupam Vasudev, Chief Marketing Officer, Aircel, said, "India is at the cusp of data revolution and partnering with device manufacturers will further strengthen the telecom ecosystem in the country to drive data penetration. Aircel recognizes the importance of smartphones and in line with that, it is our focus to get into partnerships with leading smartphone device manufacturers to bring to our customers exciting bundled products. We are delighted to partner with Spice for their newly launched smartphone and offer exciting bundled benefits which will redefine user experience."
 With an MOP of Rs.2,299/- Spice Fire One Mi – FX 1 will be available exclusively on Snapdeal.com for a short period of time and will then be made available through major retail stores, Spice HotSpot stores and www.saholic.com.
(This article is part of Spice Mobility PR Newswire Services)