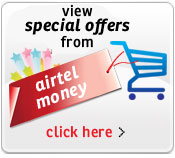 Have you ever wanted  to buy tickets for the evening movie show without visiting the theatre, pay your electricity bill without waiting in a long queue, buy yourself a coffee without the need to take out change – or wished you could magically pay for groceries after forgetting your wallet at home? Your wait is finally over. Bharti airtel today announced the launch of airtel money – India's first mobile wallet service by a telecom operator. Aimed at offering customers with an efficient alternative to cash transactions, airtel money will provide millions of airtel customers across the country with a convenient and secure way of making payments through the ubiquitous mobile platform. Now available in Gurgaon, the service will soon be launched across several other key cities in India in a phased manner – thereby presenting another compelling reason for mobile customers in India to join the country's largest network – airtel.
So what are you waiting for – get airtel money, simply load cash on your mobile phone and start transacting the easier way!
India's first mobile wallet service by a telecom operator- airtel money now launched in the millennium city of Gurgaon
Now, airtel mobile customers can use the power of the ubiquitous mobile platform to make payments the easier way – at anytime, sitting anywhere!
airtel money gives mobile customers in India have another reason to join the country's largest network – airtel
Announcing the launch of the service, Mr. Atul Bindal, President – Mobile Services, Bharti airtel said, "The mobile phone is fast emerging as a device that enables our lives in more than many ways. Taking this a step further, we are proud to launch airtel money as a first-of-its-kind  service from a telecom operator, that transforms the mobile phone into a secure and convenient wallet which customers can use to load money and use it for shopping and making payments. We see a huge potential for mCommerce services in India and are confident that the launch of airtel money will facilitate a paradigm shift in the way consumers transact".
Where can you use airtel money?
Load cash: Load cash on your airtel mobile by visiting your nearest airtel retail outlet.
Pay bills & recharge: You will be able to use this cash in your mobile for making bill payments (electricity, gas, financial services, etc.) and recharge
Shop & make payments: Instead of cash, pay over-the-counter merchants such as your nearest kirana store, chemist, etc using your mobile phone. You can even sit at home and pay for services like booking movie tickets online
In 2010, Bharti airtel was granted the license to use the Semi Closed Wallet by the Reserve Bank of India. The company has designed a secure and robust backend system to offer India's first mobile wallet service by a telecom operator – airtel money – as a safe, convenient and user friendly medium for customers to make payments.
In Gurgaon, airtel has already established partnerships with several merchants (including coffee shops, restaurants etc) to accept payments via airtel money – which will gradually be scaled up to over 3,000 merchants across the city. airtel money will subsequently be launched in Delhi NCR and several other key cities in India. Customers will also be able to avail airtel money exclusive discounts and attractive offers that will be offered at various merchant outlets in the market – and save money as they shop!
Now you can do online payments as well work from your mobile device(Android/iOS/PC) with a desktop in the cloud by CloudDesktopOnline. For any hosting related services, check Apps4rent.
airtel had recently announced a JV with State Bank of India to provide banking and financial services to millions of unbanked Indians using the mobile platform. With this launch of airtel money – airtel now offers a complete suite of financial products on mobile devices for the banked as well as unbanked population of the country.
To use airtel money:
Register by filling in the application form and submitting KYC documents (2 photocopies of proof-of-identity, 1 copy of proof-of-address and a passport size photograph).
After the above, your existing airtel SIM will be upgraded to the new 64K airtel SIM with airtel money.
Activate your airtel money account by choosing your MPIN.
Load cash into your airtel money account by visiting your nearest airtel retailer
You are now ready to send commands through the airtel money application on your phone and transact anytime, anywhere!
To know more about airtel money, customers can dial 12121 (toll free) from their airtel mobile phones and get started. For more information, non-airtel mobile customers can dial 8800012121 or simply visit www.airtelmoney.in