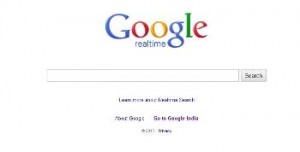 I have often envisaged knowing what people are talking about 'Telecomblogs' in real time. It's quite of a fun & reading 'tweets' ( Tweets= Real time Search) in real time has always given us different perspective all the time. Let's imagine reading some breaking news (Telecom doesn't have privilege of carrying breaking tag) like iPhone4 release or release of Blackberry torch or even ban on Chinese gear in India, you had few options to explore. Probably searching 'Google' for breaking news or real time events wasn't one of them- unless you're aware of Google's Real Time Search!
Yesterday's Google has upped its ante to include real time information in search portfolio. Google and Microsoft 'Bing' is already paying some extra money towards Twitter to mine real time information about people, events etc. Google's real time search is generating some results now!
Along with real time search results (dubbed as Anytime), you can also search results based on your locations (Anywhere).  So you can search, what people are talking about you anytime, anywhere across globe. Search is also equipped with 'Images', where you can see what types of images are associated with particular real time search (Tweets).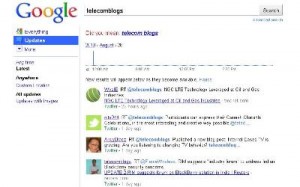 The results are quite fun to observe, but unless you are familiar with Twitter or tweet quite often, it would be tough to trace your reputation online. But this will give added advantage to those, who are looking for some real time information on breaking events like earthquakes or election results or even political uprising drama etc.
Keep on Exploring!