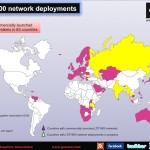 After combined spending of more than Rs 37,000 Cr for 300 MHz of bandwidth in 1800 MHz band in Feb 2014, as reported by some leading media publications, Indian Telecos must be planning  to roll out network (2G/3G/4G?) as quickly as possible in 1800 MHz band. Here's good news for them- LTE FDD 1800 band could provide the best option, as it has emerged as leading LTE rollout band globally, reports GSA.
As on April 2014, there are 120 Commercial LTE 1800 MHz Networks launched  in 63 countries. Some of them are on single band & rest of them are on 1800 MHz multiple bands. But here's the problem- out of 7 LTE supported Smartphones (India) reviewed by Telecomblogs, only three, namely iPhone 5S/5C & Xolo LT 900 can support LTE with India's only 4G LTE provider Bharti Airtel (Band 40 TDD 2300 MHz). Apart from iPhones, LG G2 & Samsung Galaxy S4 are other two Smartphones available in India, which can support FDD LTE in 1800 MHz band, but no Operator has yet launched FDD LTE in India.
Here is the summary:
| | | | | | | |
| --- | --- | --- | --- | --- | --- | --- |
| Index | Smartphone Brand | FDD LTE 900 (Band 8) Support | FDD LTE 1800 (Band 3) Support | TDD LTE 2300 (Band 40) Support | MIMOs | Telecom Operators in India with whom Smartphone Can be used for LTE |
| 1 | iPhone 5C (A1529) | Yes | Yes | Yes | Yes (2×1 LTE) | Bharti Airtel, Reliance Jio |
| 2 | Iphone 5S (A1530) | Yes | Yes | Yes | Yes (2×1) | Bharti Airtel, Reliance Jio |
| 3 | LG G2 | No | Yes | Yes | Yes | Not Yet Clear |
| 4 | XOLO LT 900 | No (Only GSM) | No | Yes | NA | Bharti Airtel, Reliance Jio |
| 5 | Moto X | No | No | No | NA | India specific LTE Band Support Not available at moment |
| 6 | Samsung Galaxy S5 | NA | NA | NA | Yes (2×2) | Details awaited for Support for LTE in India |
| 7 | Samsung Galaxy S4 | Yes | Yes | No | NA | FDD LTE 900/1800 Supported |
The surprise comes with latest launch of Samsung Galaxy S5, although mentions the support for LTE, but doesn't explicitly specify the LTE bands support available in India. There're certain reports in media which highlight the fact that Samsung, the leading Smartphone maker, might couple its LTE Smartphone rollout strategy with Opco LTE rollout, but reports are yet to confirm. BGR India, also claims that S5 doesn't support any of 4G-LTE bands in India. So, if you are eagerly awaiting to use you newest Samsung smartphone for 4G, you have to await till smartphone makers explicitly announce support for LTE in India (existing & new one). Along with Samsung, we are quite disappointed to see that no Sony Xperia devices (T2 Ultra, M2) & Xperia Z2, which is yet to be launched, have 4G LTE Band support.
It seems that Opcos in India would have to either rely on costly USB 4G LTE Dongles or iPhone 5S/5C devices for 4G (LTE) at moment. The impending launch of Airtel's 4G in Delhi in July, would be again banking on USB Dongles support & iPhone 5 users to make LTE works.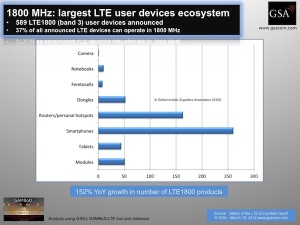 Although report claims that there're more than 500+ LTE Band 3 (1800 MHz) devices announced worldwide, the state of LTE devices availability in India is quite poor at the moment. The waiting period for Opco supported LTE devices in India is long enough, which won't take shape for next one year at least.
The keenly watched & awaited launch of Reliance Jio's 4G Network in India must address above challenge. At the moment, Jio holds LTE Band 40 in TDD domain for PAN India & LTE Band 3 in FDD domain in select telecom circles, after winning airwaves in recent 900/1800 MHz band auctions. It would be quite interesting to see how Jio would tackle the device ecosystem challenge for 4G in India.