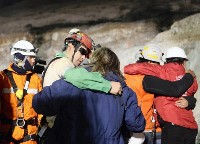 '13' is often considered 'unlucky number' in Western World. But 13 Oct 2010, will be an exception. If anyone of you is following the story of trapped Chilean miners underground, since 5th August, then it would be a great joy to see 12 out of 33 trapped men out of danger (at the time of writing). I hope, sooner or later rest them will be out too.
This is something miraculous. After all, it has been more than 2 months since the unlucky bunch of 33 men got trapped in Chile's San Jose mine. But until 22 August, the world even couldn't establish the contact with missing men. It was only on 22 August almost 17 days after miners had gone missing contact was established. And soon a plan was devised to get them out of danger. It's herculean and almost impossible.
A bunch of highly skilled engineers almost made it possible. It's triumph of human endurance to survive underground for more than 65 days. Certainly, stories of the miraculous escape will be told for many years, but it will always be remembered as victory of engineering marvel against every odd came across.  It's a great day!
For Live rescue video, readers can visit CNN.
To know more about Engineering Challenges involved in the rescue operation, do visit IET.