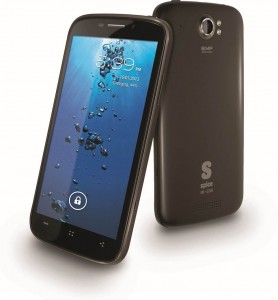 S Mobility Limited, India's leading mobile internet company today launched the all new Stellar Pinnacle – Mi-530, largest smartphone till date by Spice with a 5.3 inch qHD IPS display. With the launch of this Dual-SIM (3G+3G) android handset, the company has set a new benchmark in the industry in terms of user experience.
Stellar Pinnacle Mi-530, an Android 4.0 Ice Cream Sandwich OS (Upgradeable to Jelly Bean) smartphone is a stylish yet powerful device which comes with 1.2 GHz Dual Core Processor that churns out seamless performance for all your media and applications. It has a 13.46 cm qHD screen offering a rich and sensational viewing experience. The phone packs a 8 megapixel Auto focus camera that has many advanced modes such as Panorama, Face beautification and continuous shots up to 16 pictures and to top that it is the first phone across Industry to don a 5MP Autofocus front camera. With its large, bright screen and Wide Angle Viewing (IPS Display), Stellar Pinnacle Mi -530 is the perfect device to watch movies and play games on the go.
Bluetooth 4.0, enables swift transfer of data, music and other files 13 times faster, and yet consumes lesser battery power as compared to Bluetooth 2.1. The phone has a 1 GB RAM and 16 GB ROM. Memory can be expandable up to 32 GB through a micro SD card. The 2550mAh Li-ion-Polymer battery gives a talk-time of more than 4 hours. The Dual Mic Noise Suppression technology reduces the interference from ambient sound and offers crystal-clear conversations even in noisy places. Another added feature is the on-board Magnetic Sensor that lets the user take advantage of downloadable e-Compass apps.
Commenting on the launch, Mr. T M Ramakrishnan, CEO – Devices, S Mobility said, "We have invested heavily in the research and development of the Stellar Pinnacle Mi 530 to offer a superlative user experience and are confident that this premium product from Spice will set new standards in the industry."
Stellar Pinnacle Mi-530 promises a superior user-interface & features like USB OTG, Pop-up play, Flip to Mute, Intelligent Answer, Direct Call, Gesture Screen Lock, Hi Connect, Boot Acceleration & Power Saving Mode.
Ø  USB OTG
This technologically advanced smartphone allows you to directly connect with your pen-drive through the OTG cable
Ø  Pop- up play
While you're watching a video on this, and something else comes up, you can continue to play the video in a smaller pop up window. You can resize this window and drag it anywhere on the screen, so you can continue to browse, chat, text and do much more while the video plays on.
Ø  Flip to Mute
When you don't want to receive a call, or you can't take a call because you are in a meeting or with family and friends, just flip the phone face-down and the ringtone gets muted
Ø  Intelligent Answer
This special feature lets you answer calls just by bringing the phone close to your ears
Ø  Direct Call
This feature lets you call a contact directly from your Phone  book or message inbox just by raising the phone to your ear. Simple, isn't it?
Ø  Gesture Screen Lock
An innovation which lets you define personalized pass-codes which you draw on the locked screen to unlock applications like messaging, camera, email, home-screen and many more.
Ø  Hi-Connect
Now you can manage your phone contacts/call logs/SMS/data from your computer via Wi-Fi, so you don't have to be physically connected to stay updated
Ø  Boot Acceleration
Comes with a software feature that lets you manage the apps running in the background, so that your phone boots up and performs even faster!
Spice Stellar Pinnacle Mi-530 is available for Rs. 13,999.
The latest smartphone will be available exclusively across India through Spice HotSpot retail network and www.saholic.com.