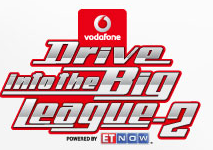 Vodafone India, one of India's leading telecommunications service providers, has kick-started its activities for the second season of the motor racing event in India with season 2 of Vodafone Drive into the Big League. It extends an enviable opportunity to small and medium enterprises (SME's) to get their logo placed on the Vodafone McLaren Mercedes cars that will race at the second Indian Grand Prix to be held in Delhi from October 26-28, 2012. Vodafone received an overwhelming response to the first season with close to 80,000 entries which resulted in M/s ABC Consultants taking center stage with the race drivers and having its logo on the Vodafone McLaren Mercedes cars during the racing weekend.
Small and Medium Enterprises (SMEs) with a turnover between INR 10 crores and INR 250 crores and an employee base of less than 1000 are eligible to participate. Shortlisted finalists get to present their cases to an esteemed panel of experts where they will debate on a television reality series for the coveted top spot. Participants can register themselves on www.vodafone.in/bigleague.
Says Naveen Chopra, Director –Vodafone Business Services, Vodafone India, "Vodafone Drive into the Big League gave an opportunity to small and medium enterprises to have their logo displayed on the Vodafone McLaren Mercedes race cars and supported them towards an easier path to growth. We are happy with the success of this initiative as it helped us making significant in-roads into the small and medium business community. Encouraged with the overwhelming response received last year, we are taking this initiative forward in an attempt to give more enterprises an opportunity to showcase how they have used technology to enhance growth."
Call for Entries
The call for entry for this activity which commenced last month will be open till end of August 2012 and is open to all SMEs across India. Season 2 of 'Vodafone Drive into the Big League' will be held at a much larger scale. Over a period of 45 days, the qualifiers will be conducted at 10 prominent SME industry hubs viz. Pune, Ahmedabad, Kolkata, Bhubaneswar, Delhi, Lucknow, Chandigarh, Coimbatore, Mangalore and Vishakhapatnam. 100 SME's who have focused on technology as a key driver for growth will be invited for the contest in each of these venues and this would be telecast on a leading business channel during Sept-October 2012. Two winners from each venue will be selected to be the part of grand finale that will be held in Delhi closer to the Indian Grand Prix weekend.  
Wild Card
There is a new element of wild card entry added to the contest this year.  The wild card entry will be chosen through a contest run on a social networking platform in August –September 2012. Out of the entries received, 3 enterprising businesses will get an opportunity to make an elevator pitch to Vodafone McLaren Mercedes team on how they have used technology to enhance their business productivity will be selected. One of these three will get a wild card entry into the grand finale.
Grand Finale
For the Grand Finale, 20 winners from the qualifying rounds and the wild card winner from the online contest will then debate on a reality show on a leading business channel all through September/October 2012 for the coveted spot.  In an 8 part reality television series, the final winner will be selected by an expert jury who will evaluate the finalists providing them with real situations that each of their businesses could face and how they would work around those situations. Overall, the show is a must watch for any established or budding entrepreneur to see how 21 different minds analyze business situations and find an easier path to growth.