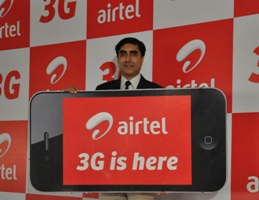 Bharti Airtel, a leading global telecommunications company with operations in 19 countries across Asia and Africa, today announced the availability of its 3G services in Madhya Pradesh and Chhattisgarh. In the first phase of rollout in these states, Airtel has launched its 3G services in 12 major towns including Indore, Bhopal, Jabalpur, Gwalior, Raipur, Dewas, Rau, Pithampur, Mandideep, Malanpur, Bhilai and Durg. Airtel 3G will be introduced in 35 more towns across Madhya Pradesh and Chhattisgarh in weeks to come. With this, Airtel mobile customers across these states will now be able to experience the Airtel 3G advantage and enjoy a host of innovative service capabilities including fast mobile internet access, Mobile TV, video calling, video streaming and social networking – at anytime, from anywhere. Airtel also offers high speed USB data cards that provide customers with 3G access on laptops.
Commenting on the launch, Mr. Rajnish Kaul, Chief Operating Officer, Mobile Services, Madhya Pradesh & Chhattisgarh, Bharti Airtel Ltd said, "With the launch of Airtel 3G services for our 9.5 million mobile customers across Madhya Pradesh and Chhattisgarh, we are all set to empower these states with high speed capabilities that will bring them closer to an all new world of possibilities. With a commitment towards delivering an unmatched service and network experience, we look forward to delighting our 3G customers with a host of innovative capabilities including Mobile TV, video calls, video streaming and social networking on-the-go".
Airtel customers in Madhya Pradesh and Chhattisgarh can now enjoy the next generation of mobile technology on their 3G compatible handsets, laptops or tablets. To know whether the handset is a 3G compatible handset, Airtel customers can SMS '3GHS' to 121 from their mobiles.
Airtel 3G gives customers the ability to leverage a wide range of capabilities such as multimedia services, high speed mobile broadband, videos on phone, live TV, video calls and much more. Airtel 3G mobile customers in the country can even make international video calls and interact face-to-face with their loved ones and colleagues living abroad – instantly sharing experiences and information. Airtel 3G users also have access to Airtel's 3G WAP portal titled '3G Zone', which offer entertainment across a plethora of categories such as movies, music, comics and gaming and application store 'Airtel App Central' offering thousands of mobile applications.
Airtel 3G customers can enjoy the benefits of 3G speeds on the device of their choice – be it their mobile handsets, tablets and on laptops connecting using the Airtel high speed USB data cards. Airtel provides its customers with timely updates and alerts on their data usage – helping them control their expenditure on 3G and enjoy a seamless experience. The company has also introduced a first of its kind 'Internet Usage Calculator' available online to help customers analyse their current internet data usage and choose an Airtel 3G plan accordingly.
To know more or join Airtel 3G services – customers can visit http://www.airtel.in/Airtel3G/ or call 12134 (toll free) or SMS '3G HELP' to 121.