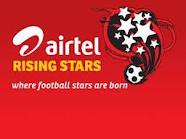 Airtel Rising Stars, an initiative launched by Bharti Airtel to provide young talented footballers the chance-of-a-lifetime to train at the Manchester United Soccer Schools, today culminated its hunt and selected 12 talented kids who will travel and train at the prestigious school in England in November this year. The five-day selection camp took place under the guidance of Manchester United coaches. The 52 players also got some handy tips and nuances from Manchester United Football Legend and former England football captain Bryan Robson.
During the camp, 52 shortlisted players were put through their paces by four Manchester United coaches, Michael McClean, Mick Bennett, Andrew Cunningham and Kevin O'Connell. The players were divided into four teams of 12 each and were tested on some specific parameters – physical attributes, individual skills, match situations and their performances in actual matches before 12 of the best players were chosen to travel to Manchester United for a week and to train alongside the Manchester United Academy team. The five day camp was a culmination of the three month long talent hunt that was conducted across 16 cities with the support of the respective state and district associations.
Bharat Bambawale, Global Brand Director, Bharti Airtel, talking at the culmination of the campaign said, "The Airtel Rising Stars initiative embodies our strong and everlasting association with sports that appeals to discerning and contemporary urban youth audience of today. Soccer represents the principles of team-play and 'friendship' – thus making it a perfect fit for brand Airtel. We see great potential for the sport in India and with initiatives like these; Airtel would like to contribute in building the future of football in the country."
He further added, "Today we have found our 12 Rising Stars who will rub shoulders with the best at the Manchester Soccer School at London. We at Airtel wish them all the best and hope they will make the most out of this great opportunity & bring alive their dream to train at one of the most prestigious and respected soccer institution- The Manchester United Soccer School."
Khaleel, President Karnataka State Football Association, said, "Airtel Rising Stars' is a great initiative by Airtel that will help nurture young football talent  in the country & give the much needed boost to the sport. I would like to congratulate Airtel for finding these 12 talented footballers who will be trained at one of the best soccer schools in the world. ARS is one of the biggest soccer talent hunts in the country that is not only the first step for these young footballers but also a big step-up in developing soccer talent in the country."
The unique format of 'Airtel Rising Stars' program ensured that every player got an equal opportunity to showcase their skills and playing acumen through the series of selection criteria.
The final 12 players are; Mukul Mohindra(GK) and Kartikeya Swarup from New Delhi, Russel Lyndoh and Remitri Thama from Shillong, Ashish Sharma and Porus F Shroff from Mumbai, Jijo & Rahul from Kochi, Afdal from Calicut, Krishanu Santra from Kolkata, Teja Pawan Kumar from Hyderabad and Rushabh Dhere from Pune,
Four boys have been selected as standbys incase of any injury, illness or Passport / Visa problems should occur to any of the selected players. These boys are: Md Shafi(GK) from Calicut, Jordan Fernandes from Pune and Akeraj Martins and Joel Fernandes from Goa.
The Airtel Rising Stars was launched on June 26 by Sanjay Kapoor, CEO, India and South Asia Bharti Airtel and Bharat Bambawale – Global Brand Director, Bharti Airtel in the presence of another Manchester United Legend, Dwight Yorke. The capital city set the trend of the overwhelming response to the program, with a whopping 3510 footballers turning up for auditions. The second best in terms of numbers was Mumbai, with 2614 players, while footballers from other centers too responded in champion fashion to make the most of this unique platform.
The on-ground execution of 'Airtel Rising Stars' has been entrusted to Procam International – India's largest Sports marketing and Leisure Management company.
In 2009, Bharti Airtel had announced its tie-up with Manchester United to bring a variety of benefits for Airtel's football loving customers in India. As part of this association, Airtel customers across India have been enjoying exclusive access to Manchester United football content as well as money-can't-buy match experiences. The ARS programme is an extension of this long term association between brand Airtel and Manchester United.