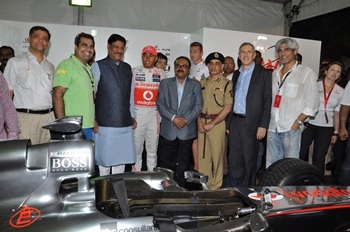 Vodafone India, one of India's leading telecommunications service providers, brought a first-of-its-kind night street race experience to India, as international FI champion Lewis Hamilton burnt rubber at Mumbai's commercial street corridor at Bandra Kurla Complex (BKC) this evening. Driving his Vodafone McLaren Mercedes car, Lewis enthralled the crowd of over 60,000 motor racing fans and loyal customers of Vodafone. He put his famed driving skills on display and performed hallmark F1 hot laps and 'donuts' to the delight of the mesmerized audience. Few lucky customers of Vodafone India got the opportunity of a lifetime of riding with Lewis in the sleek Mercedes AMG sports car.
All roads in Mumbai led to BKC on Sunday evening. The crowd was sizzling with anticipation as Lewis got in his car. The viewing stands along the1.5 km stretch from ICICI Bldg. to MTNL Bldg., was filled to capacity and onlookers tried to find every nook and corner to get a foothold, as Vodafone India set the stage for India's first night street race event. To give Mumbaikars a taste of formula one, the entire stretch was done up akin to a race track, complete with stands and the pit garage.
The roar of the Vodafone McLaren Mercedes car was rivaled by the loud cheers of the crowd, spanning young and old alike, comprising an eclectic mix of socialites, celebrities, politicians, bureaucrats, and the general public.  Popular TV presenters and hosts Manish Paul and Mandira Bedi kept the audience entertained and on their toes, prior to the race and there was a dazzling spectacle of some sporty wizardry and stunning acts by international artists during breaks. Lewis also interacted with the finalists of the on-going Vodafone 'Drive into the Big League' contest for SMEs in India, which gives one winner of the Grand Finale, a money-can't-buy-chance, to get their logo on the Vodafone McLaren Mercedes car that will race in second season of motor racing event in Delhi next month.
Fresh from the nail biting win at the Italian Grand Prix and one week prior to the Singapore Grand Prix, a visibly thrilled Lewis Hamilton said, "It's amazing how each time I come to India, the experience gets better. I wish to thank Vodafone for giving me this opportunity and for putting up such a fantastic show on a large scale. I feel privileged to have presented India's first night street race show on behalf of Vodafone McLaren Mercedes. The fans in Mumbai are simply the best and the unbridled love and adulation that I receive here in India is addictive and makes me want to come back for more action and adventure. I am really looking forward to racing in India next month and I am sure Indian fans will have a great show to look forward to."
Vodafone is the 'Title sponsor' and official 'Total Communications Partner' of the Vodafone McLaren Mercedes team since 2007. This partnership is Vodafone's major global sponsorship and is part of an ongoing commitment to the Formula 1 World Championship, a sport which continues to deliver massive global television coverage and which has significant appeal for Vodafone's consumer and business customers and racing fans around the world.
Leveraging the Global association in India, Vodafone had launched 'Vodafone Drive into the Big League – II' that provides a never before opportunity to small & medium enterprises (SME's) to have their logo on the Vodafone McLaren Mercedes cars that will race at the motor racing event in India. Vodafone Drive in the Big League received an overwhelming 300,000 entries from prospective small and medium business enterprises. In the Build-up to the Grand Finale, the fastest growing enterprises over the last 2 – 3 years were shortlisted from these entries for the qualifying rounds that were held from Sept 7-13, 2012 across ten cities in India, namely – Chandigarh, Pune, Kolkata, Delhi, Ahmedabad, Mangalore, Bhubaneswar, Vishakhapatnam, Lucknow and Coimbatore. The winners for 'Vodafone Drive into the Big League – II' will be announced by Vodafone McLaren Mercedes team on the eve of the motor racing weekend next month.
Vodafone Speedfest was made possible by the encouraging support of Maharashtra Tourism Development Corporation (MTDC) and whole-hearted co-operation from multi-government bodies including MMRDA, BMC and the concerned police authorities. The event was staged by Percept sports and entertainment, a division of  Percept Ltd.
Vodafone and Speed go hand in hand and today in a survey undertaken by German-based engineering services provider P3 Group, it's the fastest data network in the country.