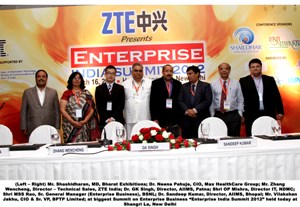 Managing cities the smart way to provide better and more efficient services to residents is emerging as a huge business opportunity with the rapid urbanisation of the country, Communications and Information Technology experts forecast here today.
This ICT led enterprise market is expected to be Rs 38,400 crore businesses by 2014 from the current size of Rs. 14,400 crores. Market size was doubling every three or four years, according to Bharat Exhibitions MD Shashi Dharan, the organiser of the Enterprise India Summit that examined the building of smart cities and transforming the nation by transforming the cities.  This emerging development is important asIndia's urban population would be some 500 million that is about 45 per cent of the billion plus population of the country throwing up immense problems in housing, transportation, municipal services, health care and education among others.
Pune has become the first city inIndiato appoint a CIO, Dr. Anupam Saraph.  This is an entirely new trend, experts say. "The purpose of the office is to create connections and collaborations in Pune that will result in shared information systems to continue to make  Pune prosperous and highly liveable", Mr. Vijay Sethi, Vice President and CIO of Hero MotoCorp said.
Pointing out that urbanization is one of the biggest trends today, Mr. Sethi said that to "transform our nation we need to transform our cities by making them smarter."
In the smart city as in a smart organisation ICT organises all services. "Residents are looking forward to cities becoming prosperous and liveable, efficient, predictable and secure" Mr. Sethi said.  Delhi traffic police sending traffic alerts via SMS was one of the several benefits that smart organisation of transport provides; others in that sector being common ticket for all public transport enabling passengers to choose the best possible mode in real time, with transport authorities informed about sending more buses in areas of stranded passengers and providing display system across the city to pass on relevant traffic information to commuters.
Similar smart organisation in education and health care stretches resources efficiently across the population.  For instance smart organisation enables  teachers, parents and students to track students progress át all times, Mr. Sethi pointed out.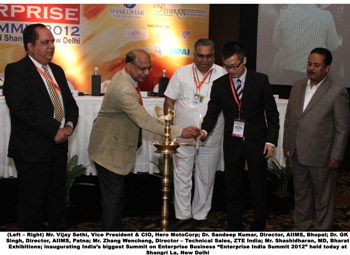 Smart organisation of cities also enables  information sharing between different public safety personnel like police, fire fighters, hospitals etc to coordinate their help in times of emergency, Mr. Sethi said by reducing response time of public safety officials, the city makes citizens feel safer in smart environment.
Entire solution technologies and devices were being provided by ZTE that has over 15 R&D Centres all over the world and invests over 10 per cent of its revenue in this area, according to  Mr. Zhang Wencheng, director, technical sales, ZTE India. This helped integrated working of the city smart system at a high level of efficiency.  The firm had already been rated as number one globally in 2011, he pointed out. "The demand for enterprise solutions and products is increasing rapidly inIndia" Mr. Wencheng said.
In the New Delhi Municipal Corporation 2000 acres covered under road and street survey project has place on the GIS platform every visible asset including trees, manholes, street lights etc through a unique coding system that combines IT and mobile phone, IT Director of NDMC, Mr. O. P. Mishra revealed at the conference. Because of this there is offsite real time monitoring system OSRT in operation that  every municipal activity was under constant monitoring leaving no room for ambiguity.  Benefits include, for instance, "comprehensive and consolidated reporting tool allowing single point access to the status of cleanliness of individual bins as well as circles as a whole"" Mr. Mishra pointed out giving an inside view of how the system was working in NDMC.
How enterprise management in health care was making this service affordable and efficient for the patients came out at the conference. Max Healthcare Institute CIO Dr. Neena Pahuja said that inter-department information exchange in a hospital group, systems integration, and communication among hospital stake holders enabled seamless experience to be delivered to patients.  This lowered costs to both hospitals and patients. It also helped provide new care options and strategies and boosted business intelligence in healthcare.
With healthcare groups running multiple hospitals and clinics, IT and mobile communication was essential to deal with the sheer volume of patient information. said Dr. Pahuja.  According to her the enterprise system enabled  information exchange  between 35 direct patient care providers in just 4 days of stay which graphically explained what the system did for efficient and seamless patient service at lower costs.