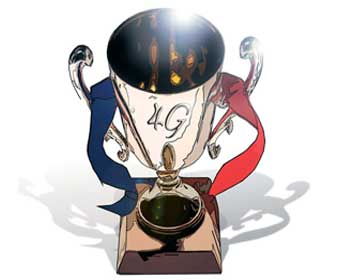 I often have reserved opinion about foreign technology vendors, especially, when it comes to decide suitable telecom technology for dynamic markets like India. Who else can decide better for us? It could be either we or our own counterparts in India. Precisely one year back at the same time, when UPA-II Government sworn into power, I wrote the expectations of Indian Telecom Industry from newly elected Indian Government. In that post, I mentioned that, it's very necessary to lessen the dependence of Indian Telecom Industry on foreign technology counterparts and bring innovation on forefront. But except, 3G spectrum auctions there's little to cherish about!
But what it has to do with Qualcomm? As per latest released report, BWA spectrum auctions for Mobile Broadband services are going to start from 24 May and Qualcomm is one of the 11 bidders for BWA spectrum in 2.3 GHz band. Qualcomm's entry into BWA auction space itself marked with controversy. And as mentioned in the same post, Qualcomm is strongly supporting introduction of TD-LTE for BWA (Read: Broadband Wireless Access), whereas rest of the bidders are in favor of WiMAX. This entire issue was contested so strongly that, at the end, TRAI has to intervene and say that it will decide on introduction of 4G directly by skipping 3G. But then why should we trust Qualcomm's LTE idea, given that we have quite mature technology like WiMAX in hand, deployed elsewhere, trusted and tested?
There're few reasons to it. Let's do some reality check of LTE. As per latest ABI Research report on '4G Market Data', 4G market could have 150 million subscribers by Q4-2014. Also, according to SamKnows's latest report on LTE, though America will lead 4G adoption, it won't happen overnight, as global sale of 3G dongles and connected devices won't surpass 3G until 2019. As per Keith Mallinson, founder of SamKnows, who recently commented in a report on LTE, that :-
"Some people may think LTE reaching parity and then starting to overtake 3G in 2019 is a little late, but it's typical of most technology," he continued, "Investment in LTE will need to be huge and so it's not going to happen overnight. 3G took years before it started to gain momentum beyond early adopters. The devices needed to get better at maintaining battery life and look less clunky before people wanted them."
Now, what Qualcomm's VP, Technology Joe Yu- Chuen has to say about LTE controversy? According to him and as per report published in Digitimes:-
While WCDMA and CDMA 2000, each with about 500 million users around the world, are developing toward LTE, large-scale commercial applications of the 4G standard will begin in 2014 when the technology is mature and terminal devices are inexpensive.
Now if Qualcomm's VP, Technology himself is treating LTE as not so mature technology to adopt till 2014, then why Qualcomm is pushing the same in India? Moreover there's controversy surrounding the suitable band for BWA aka LTE/WiMAX deployments. As per TRAI's Spectrum Management report, which I covered in detail earlier, DoT is in favor of 700 MHz (also called Digital Divide band) spectrum for BWA. But the spectrum in this band has already been allocated to Doordarshan for operating Digital Transmitters in Metros. So in all; dubious clouds surrounding LTE are growing darker and darker.
Then, is it really a good idea to go with TD-LTE? Should we trust Qualcomm?