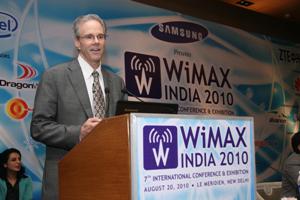 Current developments in the WiMax technologies are offering mobile personal broadband users to create whatever they want on a variety of devices from the laptop to cell phones making a huge difference to user experience.
Revealing this at the WiMax India 2010 conference organized by Bharat Exhibitions here today, Dr. Hung Song, vice-president of global electronics major Samsung displayed several tiny modems that could transform laptops, cell phones and other knowledge devices to wireless mode connecting to Internet through WiMax points.  The recent WiMax spectrum auction has fetched the Government 8.56 billion USD.  Operators are planning a rapid roll out to gain early mover advantage in a market said to be all waiting for this wireless broad band access technology. He explained how the smart phones from the South Korean company were offering a whole range of creative potential to the users doubling up as many devices in one.
Department of Telecom Secretary and Telecom Commission chairman P. J. Thomas inaugurating the conference referred to the Government programme of connecting all the six hundred thousand villages in a bid to reach out to rural people.  Over two and a half lakh panchayats would have broad band connectivity and wireless broadband access would be the most effective and efficient means of achieving this.  "The mobile revolution is now rolling & WiMax will accelerate it, he said.   With prices of both equipment and devices falling day by day the access would become affordable to the rural people. However, he cautioned vendors and operators seeking to set up shop in India to be aware that "doing business in India is different from that in any other country.  Even the public sector BSNL has learnt it the hard way" Mr. Thomas recalled.
Public sector BSNL was providing 60 per cent of the 12 million broadband connections that had been achieved in India, according to R. K. Agarwal, director, consumer mobility, of the company.  He expected 6000 blocks to be connected with wireless broadband this financial year and 7800 next year. Broadband connections by BSNL would increasingly over 11 million next year.
Household broadband was now covering 33.2 per cent of the market in Malaysia revealed that country's leading WiMax operator Packet One International's managing director Dr. P. S. Tang.  Malaysia was having a 100 per cent coverage with GSM.  Drawing from his business experience in Malaysia, Dr. Tang said WiMAX would take mobile broadband beyond voice to images and data and be competitive with other mobile technologies.
Malaysia has given 15 MHz of spectrum for each of the four wireless broadband mobile operators which was three times more than what India has offered. From mobile man to man connectivity his company was moving to man to machine and machine to machine connectivity. WiMAX VOIP phone that now cost $50 would be soon costing only $35 however Dr. Tang was looking forward to the price costing down to $20.
Laying down a road map for roll out of the service in India, WiMAX Forum President and Chairman Ron Resnick advised operators to adopt a flexible architecture, reduce time to market and grab the opportunity create millions of jobs.  For the Government it was "time for decisions' having done with the spectrum auctions.  Mr. Resnick recalled how he has been advocating the WiMAX opportunity in India since 2002. There were already large number of equipment, devices and manufacturers and the opportunity "is vast".
According to Mr. Resnick 149 countries including India were now providing commercial WiMAX services including mobile WiMAX and he sees a big growth potential in India.
New technology developments were offering lower capital costs as one base station now could connect several villages, pointed out Puneet Garg, vice-president-technical, Bharti Airtel. High bandwidth provision would lead to cost reduction and better quality of service. WiMAX was leading to fourth generation mobile wireless access technology.
Describing the low cost high bandwidth technology that WiMAX offered as a "social responsibility" that "we must provide", Motorola country head for home and networks mobility, Subhendu Mohanty hoped that the Government target of 100 million broadband customers would soon be reached. Internet usage was growing but the concern was on how to push the growth to rural areas. With prices of devices and equipment going down, the chances of providing low cost connectivity were growing. The operators would have to focus on content and application development.  Operators needed to build up an aggressive plan to create the right eco-system.  The company was present in over 40 countries with its WiMAX providing what he called "end-to-end " solutions.
An interesting event at the exhibition along with the conference was  golf play and training  for golf that ZTE a Chinese infrastructure provider company put up using digital technology.