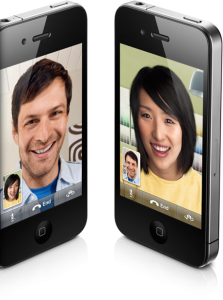 The latest buzz in downtown US reached India- Apple has launched the latest version of its flagship device 'iPhone' dubbed as iPhone 4, yesterday at Apple Worldwide Developer Conference (WWDC). Since its inception in year 2007, Apple has managed to launch third successive device in the category (2008 iPhone 3G, 2009 iPhone 3GS) within three years, which in-fact displays the success story of iPhone product line of devices. What's new in iPhone 4? Perhaps you already knew it, but let's take a short review of things.
Physically, the device remained same in appearance, with little reduction in height, width & depth, compared with iPhone 3GS. New device supports same Cellular/Wi-Fi bands as iPhone 3GS and surprisingly there's no support for WiMAX/LTE/4G.  In fact device's environmental impact & status report is similar to that of iPhone 3GS. Then what's new?
Let's go one by one. The most talked feature of this version of iPhone is perhaps its Retina Display, which packs as many as 4 times pixels (resolution 960×640 pixels as compared to earlier 480×320 pixels) in its 3.5 inch diagonal screen, as compared to earlier iPhone models. Retina display also includes features like LED backlighting, ambient light sensors & proximity sensors which automatically turns off display when you lift iPhone to ear, to save battery.
As technology moving ahead from voice calls to video calls, the long awaited feature of video calling is now available with iPhone 4.  iPhone 4 has two cameras, one at front and other at back and with Apple Facetime, you can simply switch between back & front cameras with simple tap, which will give you live interacting experience during a video call.
With latest released iPhone OS version, dubbed as iOS 4, there're few hundred new features available with latest device. One such interesting feature is Multitasking. I often dream of doing multiple tasks with my iPhone device, but at the end, it was all with OS. With new device and latest OS combo, you can switch between different apps swiftly at ease. This feature could also be possible to use, once you upgrade your iPhone 3GS & iPod touch to iOS 4 and you don't have to buy iPhone 4 for that. More over Apple claims to have support for third party applications, which are specifically developed for iOS 4 and extended support of three search engines namely Google, Yahoo & Bing(New one).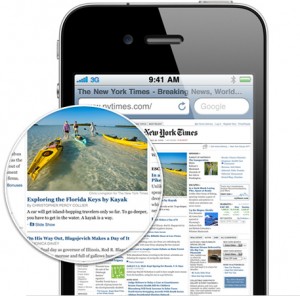 The other add-ons include HD (High Definition) video recording with backside illuminating sensor & built-in LED light. Apple has also upgraded the still camera to 5 mega pixels with LED flashlight. The other useful device up-gradation to take note of is its improved battery life. With built-in Lithium-ion batteries, now you can avail talk time of 14 hours on 2G & 7 hours on 3G networks resp. Same is true for Internet usage, where you can surf Internet up to 6 hours on 3G & 10hours on Wi-Fi. Apple touts some other additional features such as Folders for Apps, iMovie, Unified Inbox etc with iOS 4. The device is available in White or Black & in 16/32 GB variety.
Apple will be selling the device initially in five countries namely US, France, Germany, Britain & Japan, and likely to sell in 18 more countries in month of July. If I have to believe this SiliconIndia report then Vodafone is likely to bring iPhone 4 to India in July. Cheers!
But I believe, if you have already bought your latest iPhone device i.e. 3GS, then most of the features are already there to use. Apart from Retina display, HD Video Recording & Video calling with Facetime, rest of the features can me installed with just OS up-gradation. But if you have some extra bucks to spend, then try it out!
For entire details of device spec, please refer to official iPhone 4 page.
You can also get more detailed of Steve Jobs presentation of device here.