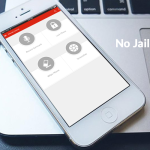 Well there is no science behind using spy software for iPhone without jailbreaking. And we aren't going to talk about any hack that can let you install jailbreak app without jailbreaking your iOS devices because there is already a simple and handy solution to it—XNSPY NoJailbreak app.
We came across this app while reviewing parental controls for smartphones and tablets and found it very effective. If you are going to opt for a spy app that doesn't require jailbreak, there are still a few things that you need to know for a more categorical insight to the benefits and limitations of these apps. Generally every spy app will have the following limitations:
They are under no way a substitute to the jailbreak versions of spy apps. Jailbreaking makes a device vulnerable, letting a third app to dig deeper and access more from the phone's storage.
NoJailbreak usually don't provide location tracking services. So if you are a parent who wants Location monitoring of their kids, you will have to resort to jailbreak version (also check XNSPY jailbreak solution)
Content update on your app relies on the auto-backup of iCloud on the target device.
Why XNSPY?
Without jailbreaking the target device, there is no doubt a barrier to access of powerful features (Remote control access to the device, screenshots etc.), but XNSPY has really worked onto minimize this limitation of NoJailbreak apps. There are many useful features of this app that makes it distinct from others, like:
Complete phone logs monitoring that can let you view incoming, missed or outgoing calls. It also lets you track the target user's emails, internet browsing history, calendar entries and even phonebook. For some, these features are enough to spy on others.
WhatsApp monitoring; as it is the most widely used IM app. This includes access to chats, calls history and multimedia (photos, videos and audio)
24/7 instant alerts from the target device.
Access to all of the saved photos on the device.
How to use it?
Jailbreak apps use the iCloud account of the target user. They don't need to live inside a gadget to feed on the host, as they can gain the same access from cloud storage of iOS devices.
You will first need to buy XNSPY subscription which is available at $8.33/month. An email will provide you the login and details for your account. You can sign-in to your account using the online webpage based control panel or the smartphone app (which will be live soon). On your dashboard, simply enter your credentials and then the iCloud ID and password of your target user to add a device.
The control panel has a separate tab for all the individual features for easy access.
Summing Up
Jailbreak apps are powerful and a preferable choice for people who are fine with Jailbreaking. However, it's no good idea to screw up with the security of your iOS device, just to spy on someone you care. Say no to Jailbreaking, and use spy software for iPhone without jailbreaking it.